The Thomas and Diann Mann Symposia

2018
"Below the Line"? The Feuilleton and Modern Jewish Cultures Conference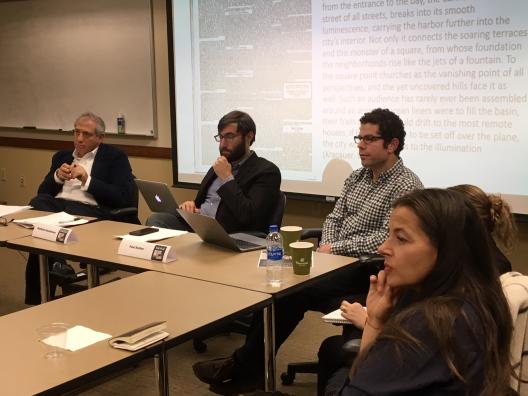 The 2018 Mann symposium, held in October 2018, focused on the feuilletons of the nineteenth and twentieth centuries.  Scholars from the U.S. and Israel participated in the symposium to focus on the Jewishness of the feuilleton by asking participants to contribute specific examples of the feuilleton that engage issues related to Jewish identity or the Jewishness of form.
Feuilletons were a major cultural and political genre in newspapers across Europe and beyond. By the early twentieth century, the feuilleton was a key site for discussions of national character, portraits of urban life, and cultural and aesthetic innovation and experimentation. It was also increasingly perceived as a Jewish form, by both Jewish and anti-Semitic writers. Feuilletons had been adopted by the Jewish press in Hebrew, Yiddish and Ladino relatively quickly, since their rise to prominence coincided with the rapid expansion of the Jewish press towards the end of the nineteenth century. But the feuilleton also came to be seen as "Jewish" in the non-Jewish press in Germany and throughout Eastern Europe.
2020
Israeli and Palestinian Cuisine in Diaspora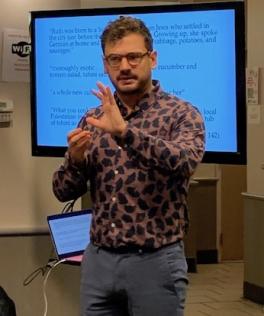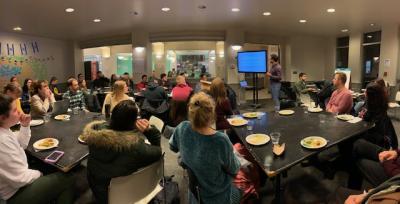 Harry Kashdan
The first program in the Mann series featured Harry Kashdan, a postdoctoral researcher at Ohio State, who presented a program to a large audience on how cookbooks can be analyzed as literary objects. In the cookbook, Jerusalem by Yotam Ottolenghi, a Jew, and Sami Tamimi, a Palestinian, distinctions between Israeli Jews and Palestinians are repeatedly raised and then dismissed in order to find common ground between Israel and Palestine. The literary dimensions of their cookbooks attempt to harmonize their fraught personal narratives with the commercial forces at play in cookbook publishing: peace sells better than conflict, and diasporic nostalgia never goes out of style. The program was co-sponsored by OSU Hillel.
A Rich Brew: How Cafés Created Modern Jewish Culture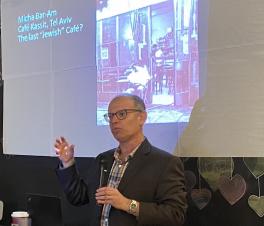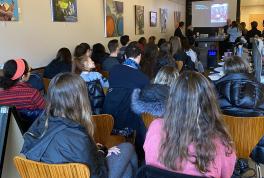 The second program in the Mann Symposium Series featured Shachar Pinsker, Professor of Hebrew Literature and Culture at the University of Michigan, who presented a program to a packed audience on the birth of Jewish modernity in the café, how it was nourished and sent out into the world by way of print, politics, literature, art, and theater. What was experienced and created in the space of the coffeehouse touched thousands who read, saw, and imbibed a modern culture that redefined what it meant to be a Jew in the world. This program, which was held at Sweetwater's Coffee & Tea on campus, was also supported by the Norbert and Gretel Bloch Scholarship fund.
The third program in the Mann Symposium series on Jews in the liquor industry which was originally scheduled for March 29 will be scheduled at a later date.
2018
A Conversation on Solomon Ben Maimon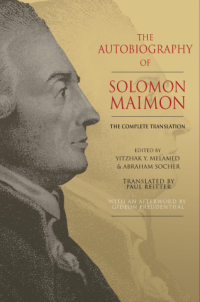 In November 2018, the Melton Center and Humanities Institute presented a campus program on Solomon Ben Maimon, an 18th century Jewish philosopher whose writings were influenced by Maimonides, Spinoza, and Kant. The program featured Paul Reitter from the Department of Germanic Languages and Literatures at Ohio State, and Abe Socher, Professor Emeritus, Oberlin College, and editor of Jewish Review of Books. They collaborated on the translation of Solomon Ben Maimon's autobiography, The Autobiography of Solomon Maimon: The Complete Translation (Melamed, Yitzhak and Socher, Abraham eds., Princeton University Press, 2019). Maimon was an important figure in the development of the movement referred to today as German Idealism, which was a reaction against Immanuel Kant's Critique of Pure Reason and was closely linked with both Romanticism and the revolutionary politics of The Enlightenment.


2019
PLACES OF REMEMBRANCE: A Decentralized Memorial in Berlin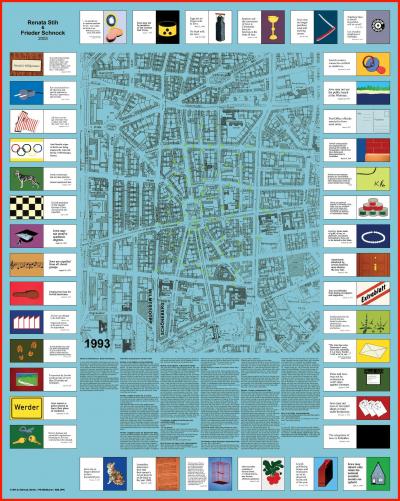 Last year the Melton Center, the Department of German Languages and Literatures at Ohio State, the Holocaust Education Council and the Jewish Community Relations Committee of JewishColumbus presented a program on a Holocaust memorial art installation in the Bavarian Quarter of Berlin. Professors Renata Stih and Frieder Schnock created this unusual and controversial Holocaust memorial, which consists of 80 signs attached to lamp posts. Each has one of the many Nazi rules that Jews in Berlin had to follow during the occupation. Professor Stih and Dr. Schnock discussed the memorial and its development, along with reactions and responses it continues to elicit.
Map of the Berlin Holocaust Memorial installation
 










Author Ruby Namdar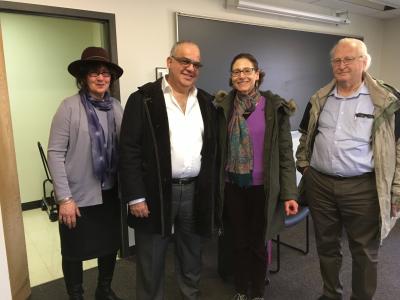 In 2019 the Melton Center and Jewish Bookfair presented a program featuring acclaimed Israeli author Ruby Namdar, whose novels have won numerous Israeli book prizes. He discussed his book, Ruined House, his writing process, and offered writing advice to students.

left to right: Professor Tamar Rudavsky, Ruby Namdar, and Professors Adena Tanenbaum and Joseph Galron.
Palestinian Humorist Sayed Kashua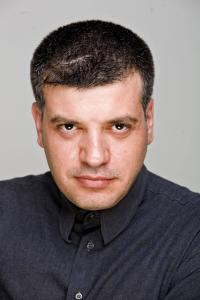 On March 11, 2019, the Melton Center, the Department of Near Eastern Languages and Cultures at Ohio State and JewishColumbus hosted a lunch program on campus with Palestinian humorist Sayed Kashua. Kashua publishes a personal weekly column in Hebrew for Haaretz newspaper and a local Jerusalem weekly, HaIr. In a humorous, tongue-in-cheek style, his anecdotal pieces address the problems faced by Arabs in Israel. Kashua is one of Israel's foremost writers and intellectuals and author of four novels – Dancing Arabs (2002), Let It Be Morning (2006), Second Person Singular (2010), Track Changes (2017), all of them translated into English;  he is also the creator of some of Israel's most popular sitcoms, The Arab Labor and The Writer.
Diane Cummins Community Education Fund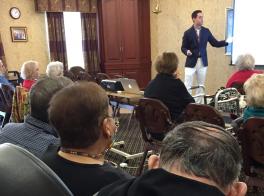 The Melton Center runs a series of Jewish learning programs for senior adults in the community. The programs are held at Wexner Heritage Village's Creekside at the Village, an independent residential facility for senior citizens. Some of our best and brightest graduate students in Jewish studies lead sessions on a variety of topics. We are grateful to the Cummins family for their support.

Artist Allan Wexler, Form Follows Ritual: Building for Ceremony
On October 17, 2019 the Columbus Museum of Art presented a program with New York artist/architect Allan Wexler. He discussed his works, which use architecture, sculpture, photography, painting and drawing to explore relationships between human beings and the built and natural environments. Wexler's Gardening Sukkah, which is housed at the museum and was on display, was intended be used as a temporary hut where people gather to eat during Sukkot, the Jewish festival marking the fall harvest, and doubles as a gardening hut during the rest of the year.

Thanks to Professor Suzanne Silver in the Department of Art for coordinating his visit. Wexler, who likes to think of himself as the "Andy Warhol" of architecture, pushes the boundaries of expected outcomes to offer novel ideas about human activity and built environments.
The program was presented by Columbus Museum of Art Friends of Jewish Art, the Melton Center for Jewish Studies through the Diane Cummins Community Education Fund, the JCC Jewish Book and Author Series, and is made possible in part through the Lenore Schottenstein and Community Jewish Arts Fund of the Columbus Jewish Foundation, a JewishColumbus partner.

The Melton Coalition Biennial Conference: Time in Jewish Thought and Education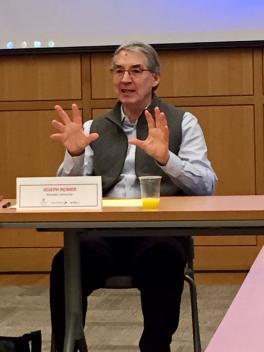 The Melton Coalition for Creative Interaction is a joint project of the Melton Research Center of the Jewish Theological Seminary, the Melton Centre for Jewish Education of the Hebrew University of Jerusalem and The Melton Center for Jewish Studies at The Ohio State University. Among other activities, the Coalition sponsors a biennial conference on key issues of shared interest to Judaica scholars, scholars of Jewish education, and Jewish educational practitioners
The Melton Center hosted the conference from February 24-26, 2019. The theme was Time in Jewish Thought and Education. Thirteen scholars in different fields of Jewish studies generated a depth of reflection on ideas about time, including the Jewish holidays, their development, and the ways in which these affect the Jewish experience and identity. Scholars of Jewish education provided an analysis of past and current educational practice and the assumptions about Jewish time that this practice embodies.
Participants in the Coalition Conference:
Noga Baror-Bing, Hebrew University, Kerem Teachers Seminary at David Yellin College/Hartman Institute, the Mandel Institute
Naomi Brenner, Associate Professor of Hebrew and Jewish Culture, Ohio State
Yonatan Cohen, The Bella and Israel Unterberg Professor of Jewish Education at the Hebrew University of Jerusalem
Michael Gillis, Professor of Jewish Education and director of the Melton Centre for Jewish Education, the Hebrew University
Chaya Gorsetman, Clinical Associate Professor of Education, Stern College, Yeshiva University
Matt Goldish, Professor of History, Ohio State
Barry Holtz, the Theodore And Florence Baumritter Professor of Jewish Education, Melton Research Center and William Davidson Graduate School, Jewish Theological Seminar
Lynn Kaye, Assistant Professor of Rabbinic Literature and Thought, Brandeis University
Hannah Kosstrin, Associate Professor of Dance, Ohio State
Meryll Page, retired Jewish educator and consultant
Joseph Reimer, Associate Professor of Education, Brandeis University
Avinoam Rosenak, Lecturer, Melton Centre for Jewish Education, Department of Jewish Thought, Hebrew University
Tamar Rudavsky, Professor of Philosophy, Ohio State
Sarah Tauber, faculty, Davidson School of Jewish Education, Jewish Theological Seminary
Tanya Zion Waldoks, Lecturer, Melton Centre for Jewish Education, Hebrew University

Pianist Or Yissachar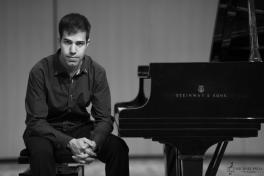 On February 25, 2019 the Melton Center and School of Music presented a recital featuring Israeli pianist Or Yissachar to a packed house. He performed modern compositions by Israeli composers, as well as a piece by Ohio State's Professor Jan Radzynski.


The Annual Pearl and Troy Feibel Lecture on Judaism and the Law
2019
Jews and Human Rights in the 20th Century 
The 2019 annual Pearl and Troy Feibel Lecture on Judaism and the Law was delivered by James Loeffler, the Jay Berkowitz Professor of Jewish History at University of Virginia. He spoke about five remarkable Jewish founders of international human rights within the context of the creation of the state of Israel and the creation of the Universal Declaration of Human Rights in 1947. Both remain tied together in the ongoing debates about the Israeli-Palestinian conflict, global antisemitism, and American foreign policy. 
Due to the covid pandemic, the 2020 Feibel lecture will be rescheduled at a later date.
left to right, front row: Professor Tamar Rudavsky, Ron Robins, Barbara Feibel Robins, Babette Feibel, Ronnie Feibel, Don Feibel. 
left to right, back row: Professors Daniel Frank, Adena Tanenbaum, James Loeffler, Michael Swartz, Suzanne Silver, Robin Judd.


2020
Choreographer/Dancer Dege Feder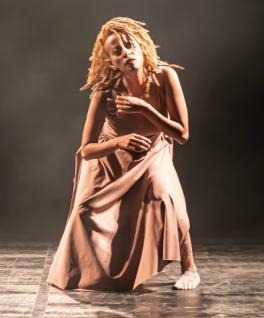 The Ohio State University welcomed choreographer Dege Feder to Ohio State for a residency February 24–25, 2020. Feder is a multi-disciplinary artist born in Ethiopia and based in Israel. Ms. Feder led workshops in the Department of Dance, and performed a piece called "Jalo," which speaks about Ms. Feder's private voyage from her homeland to a new country, and the challenges she faced to integrate into a new society and culture while trying to preserve her individual identity and past.
Dege Feder is a choreographer, dancer, and musician and recipient of the Israeli Ministry of Culture Prize for Young Dance Creators in 2018. 
Her residency was co-sponsored by Oho State's Department of Dance, Melton Center for Jewish Studies, and the Migration, Mobility, and Immobility Project of the Global Arts and Humanities Discovery Theme.
Other Program Highlights
The Melton Center co-sponsored these programs in 2019 and 2020:
2019
A Holocaust Discussion with author Margaret McMullan
Last October, the Melton Center co-sponsored a program with Gramercy Books featuring author and Fulbright Fellow Margaret McMullan. Robin Judd, Associate Professor History at Ohio State interviewed Ms. McMillan about her recent memoir, Where the Angels Lived, which documents the relentless determination of a woman picking up the pieces of her family's fragmented history throughout the Hungarian Holocaust.
Where Harry Met Sally – The Jewish Deli in Pop Culture
Last fall, the Columbus Jewish Historical Society presented a program featuring Ted Merwin, PhD, author of Pastrami on Rye: An Overstuffed History of the Jewish Delicatessen (NYU Press, 2015) to 150 people at the Columbus JCC. Merwin explored the heyday of the deli and the representation of Jewish-American delis in music, film and television and the evolution of delis today. The program was co-sponsored with JCC Bookfair and supported by the Diane Cummins Community Education Fund through the Melton Center.
Columbus Jewish Film Festival
Last fall, the Melton Center co-sponsored "The Unorthodox," a film inspired by the formation of the Shas political party, which was the first party to represent the Sephardi Jewish community in Israel.
When a Woman Gives Birth to a Raven: Gynecology and Zoology according to the Rabbis
In December the Department of Near Eastern Languages and Cultures and the Melton Center presented a program featuring Rachel Raphael Neis, Associate Professor of History and Judaic Studies, University of Michigan. Her talk demonstrated that the rabbis of late antiquity held a rather different approach to the human and the nonhuman. In unrelated texts from the Mishnah together – including those on women's menstrual purity, animal donations to the temple, and forbidden mixings of species – we witness a gynecology that was intertwined with zoology.
2020
Daniella Doron, senior lecturer in Jewish History at the Australian Centre for Jewish Civilisation at Monash University gave two talks last January - "Rebuilding Family and Nation: Trauma, Displacement and Rehabilitation among Postwar French Jews" and "Family Separation: Mobility, Agency, and Emotions among Nazi Era Jewish Refugee Youth." Professor Doron also spoke to a Holocaust class and met with graduate students and faculty.
---