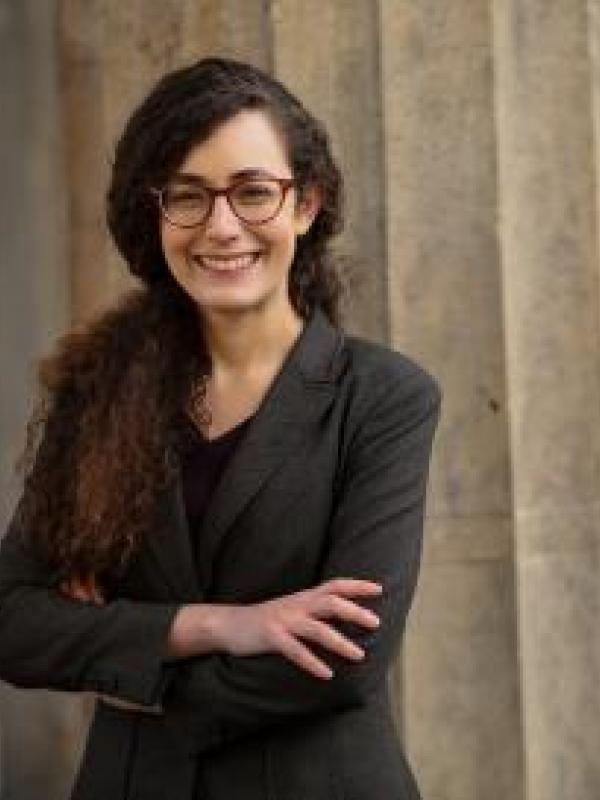 Sonia Gollance
Visiting Assistant Professor and Director of Yiddish Studies, Department of Germanic Languages and Literatures
421 Hagerty Hall
1775 College Road
Areas of Expertise
Yiddish Literature and Culture
German-Jewish Studies
Performance Studies
Education
PhD, University of Pennsylvania
BA, University of Chicago
Sonia Gollance is a scholar of Yiddish and German-Jewish Studies whose work focuses on literature, dance, theater, and gender. Her first book, tentatively entitled Mixed Metaphor: Jewish Social Dance and Modern Literature, shows how writers used transgressive dance scenes as a way of addressing a wide range of issues that Jews confronted in the nineteenth and twentieth centuries. In literary texts, dance gives expression to unruly desires in a deceptively permissive space, yet when the dancing stops, the dominant social structures remain enforced, and characters who do not adapt their passions often suffer tragic consequences. The widespread popularity of mixed-sex social dancing transcended class, religious, and national boundaries, thus providing new insights into the different challenges acculturation presented for Jewish men and women.
While her first book examines the (perceived) utopian potential of the dance floor, her next book considers the broad question of what makes a body in motion particularly vulnerable to humiliation. She is currently developing a project that traces the role of dance in antisemitic portrayals of Jews and works by Jews that depict antisemitism. Through the study of aesthetics and body movement, we can better see the various forms of antisemitism, how it defined the Jew in all aspects of his or her life, and the ways in which discrimination becomes embodied.
She is the Managing Editor of Plotting Yiddish Drama, an initiative of the Digital Yiddish Theatre Project to create a digital database of Yiddish play synopses. In this capacity, she has published short works of public scholarship about different aspects of the Yiddish dramatic repertoire. She has presented her research and/or led Yiddish folk dancing at culture festivals such as KlezKanada, Yiddish New York, and Yiddish Summer Weimar.
Prior to coming to The Ohio State University, she held a Moritz Stern Fellowship in Modern Jewish Studies at Lichtenberg-Kolleg, the Göttingen Institute for Advanced Study in the Humanities and Social Sciences at the Georg-August-Universität Göttingen (Germany). She has previously received research fellowships from the Center for Jewish History, Association for Jewish Studies, Hadassah-Brandeis Institute, Österreichischer Austauschdienst (Austria), YIVO Institute for Jewish Research, Franz Rosenzweig Minerva Research Center for German-Jewish Literature and Cultural History (Israel), and Fulbright Commission.
Her classes include Yiddish Culture, Holocaust in Yiddish and Ashkenazic Literature, and Yiddish Literature in Translation. Starting in Autumn 2020, she will offer classes in Yiddish language alongside classes in Yiddish literature and culture.