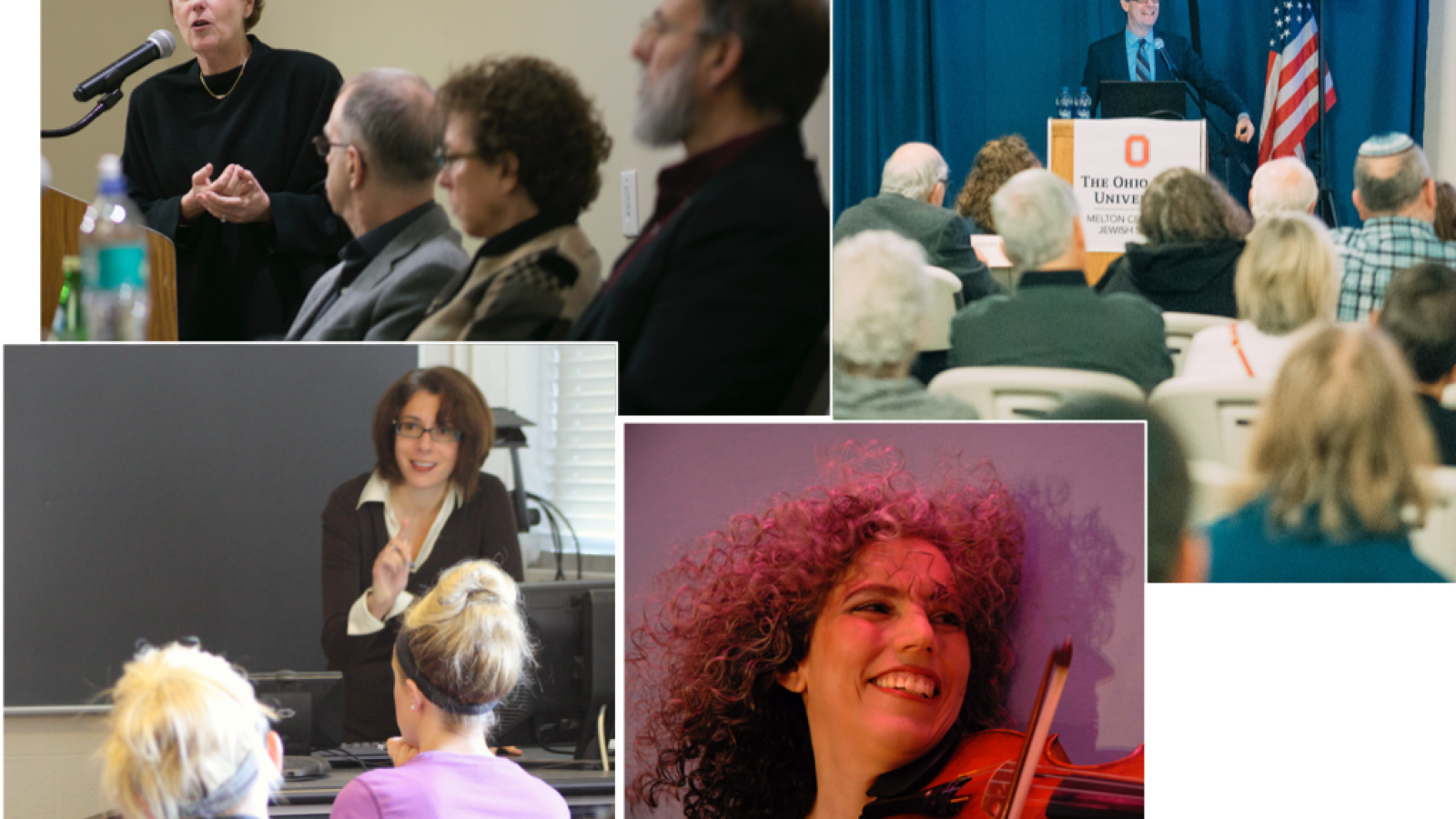 HATTIESBURG, MISSISSIPPI: TWO MINORITIES' EXPERIENCES IN THE DEEP SOUTH
In the fall of 2019, the Melton Center presented a program featuring two scholars who published books about the black and Jewish experiences in Hattiesburg. Professor William Sturkey's book, Hattiesburg: An American City in Black and White, is a rich, multigenerational saga of race and family in Hattiesburg, Mississippi. Professor Leon Waldoff's book, A Story of Jewish Experience in Mississippi, chronicles the story of his Russian–Jewish parents' arrival and in the Mississippi region. Waldoff's book reveals the experience of the Jewish community in Hattiesburg from the 1920s through the 1960s, as it goes through times of prosperity but also faces the dangers of anti-Semitism.  Humanities Institute Director David Staley moderated the program. 
PLACES OF REMEMBRANCE: A DECENTRALIZED MEMORIAL IN BERLIN
One of the signs in the Berlin Memorial. It reads, Jews in Berlin are only allowed to buy food between four and five o'clock in the afternoon July 4, 1940. 

Last year the Melton Center, the Department of German Languages and Literatures at Ohio State, the Holocaust Education Council and the Jewish Community Relations Committee of JewishColumbus presented a program on a Holocaust memorial art installation in the Bavarian Quarter of Berlin. Professors Renata Stih and Frieder Schnock created this unusual and controversial Holocaust memorial, which consists of 80 signs attached to lamp posts. Each has one of the many Nazi rules that Jews in Berlin had to follow during the occupation.
THE 2020 THOMAS AND DIANN MANN SYMPOSIUM: JEWS AND FOOD
Israeli and Palestinian Cuisine in Diaspora
In November, 2019, Harry Kasdan, Postdoctoral Researcher in Global Mediterranean studies at Ohio State, discussed how cookbooks can be analyzed as literary objects, specifically in Yotam Ottolenghi and Sami Tamimi's Jerusalem cookbooks.  
A Rich Brew: How Cafés Created Modern Jewish Culture
In March of 2020, Shachar Pinsker, Professor of Hebrew Literature and Culture at the University of Michigan discussed how Jewish modernity was born in the café, nourished, and sent out into the world by way of print, politics, literature, art, and theater based on his recent book. The program was held at a coffee shop near campus.
"A Rich Brew" book cover