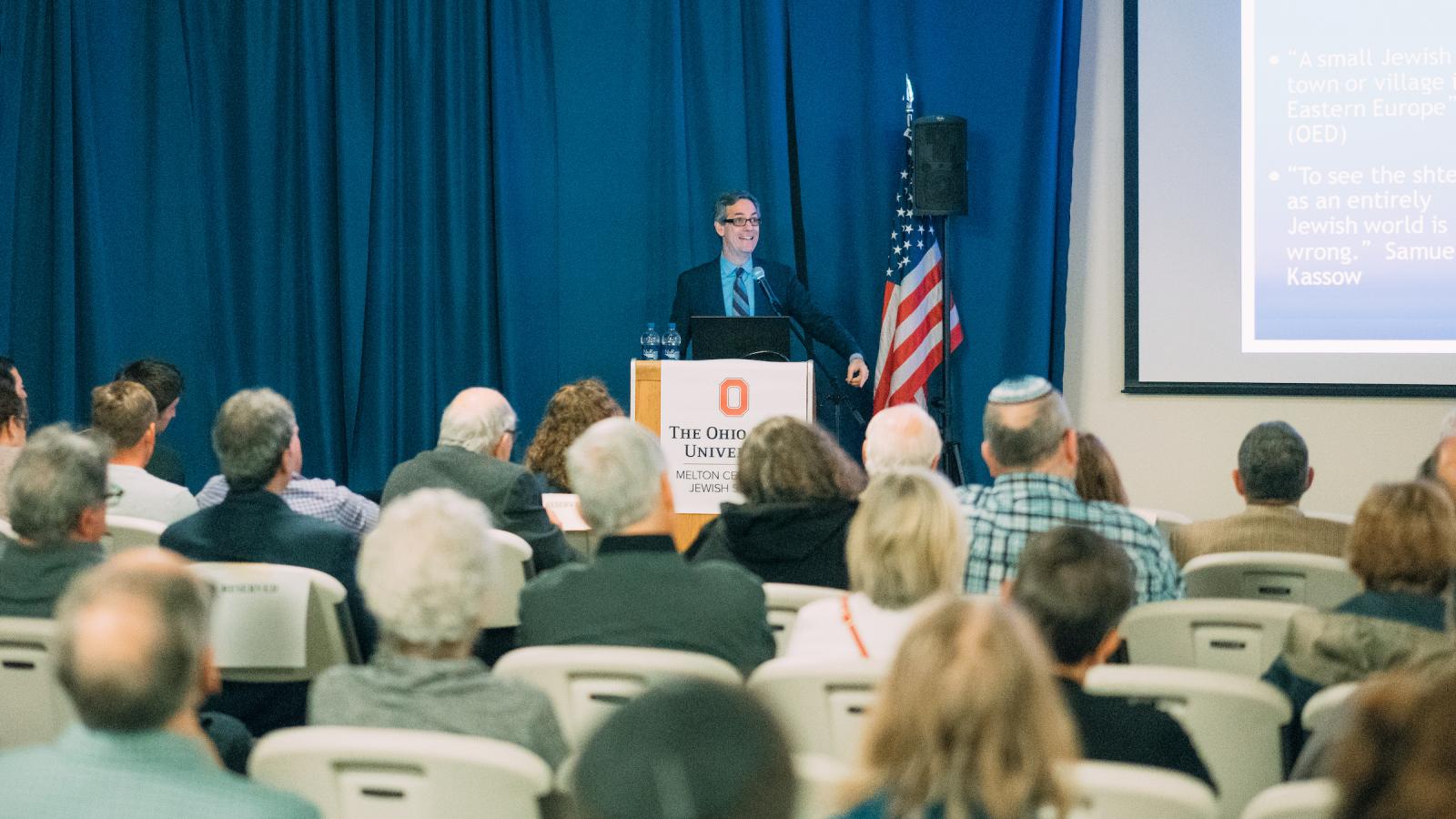 Body
Troy and Pearl Feibel  
Photo, 2008. Back row l to r: Bob Shamansky, Jim Feibel, Dean John Roberts, Matt Goldish, Eric Fingerhut, Ron Robins; front row: Babette Feibel, Don Feibel, Suzanne Last Stone, Ronni Feibel, Barbara Feibel Robins  
Pearl and Troy Feibel were active in community activities, each serving on boards of numerous charitable and civic organizations in the Jewish and general communities. They were graduates of The Ohio State University and Troy completed law school there. Troy was a well-known and highly respected lawyer in central Ohio. He was president of Temple Israel, The Columbus Jewish Federation, and was instrumental in founding The Columbus Jewish Foundation, Temple Israel Foundation, and Temple Beth Shalom Foundation. Following Troy's death, Pearl established the Pearl and Troy Feibel Lecture series on Judaism and Law with the assistance of then-OSU professor Marc Raphael, which melded her and Troy's shared life-long commitment to the legal profession and their Jewish faith. Pearl Feibel died in 1992.
The lecture fund was established May 5, 1988 by Pearl and has been supported with gifts from Donald Feibel, *James Feibel,  Barbara Feibel Robins and *Robert Shamansky to The Ohio State University to honor the memory of Pearl and Troy.
*Of blessed memory
Past Lectures
May 8, 1988, ​Prof. Mark V. Tushnet, "Original Intent, the Establishment Clause, and Minority Religions in the Era of the Framing of the Constitution"
May 7, 1989, Prof. Alan Avery-Peck, "Law and Society in Early Judaism:  Legal Evolution in the System of the Rabbis"
Nov. 18, 1990, Rabbi Abraham Weiss, "Role of Women in Jewish Law"
March 1, 1992, Prof. Sanford Levinson, "Who is a Jewish Lawyer?"
March 7, 1993, Prof. Sam Dash, "Jewish Antecedents to the Bill of Rights"
April 10, 1994, Prof. Robert A. Burt, "The Jewish Paradigm in American Constitutional Law"
Feb. 26,  1995, Prof. Judith Hauptman, "Women's Identity in Jewish Law"
March 3, 1996, Prof. Paul Gewirtz, "The Church-State Debate and the Future of American Judaism"
March 2, 1997, Prof. Fred Rosner, "Life, Death and Dying in Jewish Law"
March 1, 1998, Prof. Marc Lee Raphael, "The Impact of Israeli Law on the American Jewish Community"
Feb. 18, 1999, Prof. Lawrence H. Schiffman, "Who is a Jew?"
Feb. 27,  2000, Prof. Eugene B. Borowitz, "Virtue and Law in Judaism"
March 4, 2001, Prof. Michael J. Broyde, "Assisted Reproduction and Jewish Law: Artificial Insemination, Surrogate Motherhood and Cloning"
March 10, 2002, Prof. J. David Bleich, "Pain Relief: Legal, Medical, and Halachic Ramifications"
March 9, 2003, Prof. Michael Walzer, "Zionism and Judaism: The Paradox of National Liberation"
March 14, 2004, Dr. Norman Ornstein, "Faith and Politics"
March 6, 2005, Prof. Paul Finkelstein, "The Ten Commandments in the Courthouse"
March 5, 2006, Prof. Michael Bazyler, "Holocaust Restitution and the Law"
Feb. 29,  2007, Prof. Harry Reicher, "Whose Jerusalem? Jerusalem and International Law"
March 2, 2008, Prof. Suzanne Last Stone, "Torah and the State: Divergent Halakhic Conceptions of the State of Israel"
March 29, 2009, Professors Menachem Kellner and Tamar Rudavsky, "When Theology Affects Law: The Case of Maimonides"
Oct. 31,  2010, Professor Yoram Peri, "Between the Knesset and Beit-Haknesset: The Crisis over State and Religion in Israel"
April 22, 2012, Rabbi Professor Haym Soloveitchik, "Halakhah, Taboo, and the Origin of Jewish Money Lending"
March 24, 2013, Rabbi David Saperstein and Rabbi Professor Marc Saperstein, "Jewish Law and Changing Times"
April 6, 2014, Professor Leora Batnitzky, "Between Synagogue and State: Modern Conversion Controversies in the U.S., Israel and Great Britain"
Oct. 26,  2014, Professor Yitzhak Melamed, "Letters from the Ashes: Jewish Books Lost During World War II"
Nov. 15, 2015, Professor Moshe Halbertal, "Law and Emotion:  Maimonides on  Mourning" 
April 3, 2017, Professor Christine Hayes, "Divine Law: A Tale of Two Concepts (and three responses)"
April 22, 2018, Professors David Myers and Nomi Stolzenberg, "An American Shtetl, Kiryas Yoel, New York: a Hasidic town in New York"
April 7, 2019, Professor James, Loeffler, "Jews and Human Rights in the Twentieth Century"
2020, 2021, Feibel lectures cancelled due to the pandemic